This year's BCCE 2022 is taking place at Purdue University's campus from July 31st to August 4th.
The theme for this conference is "New approaches to modern challenges".
Amongst the many abstracts that involve innovative methods to tackle emerging challenges in education, we gathered the best ones for your reading:
Workshop: Flipping Chemistry Courses Using the Aktiv Chemistry Learning Platform

Stephanie Dillon
Director, Florida State University
Monday, August 1, 2:00 PM ET
CHAS Building, Room 2064
With the lasting impacts of COVID-19 on higher education, student engagement during class time (in-person or virtual) has never been more important. In fact, surveys of chemistry instructors taken over the pandemic have repeatedly highlighted maintaining student engagement as their number one perceived issue. 
Many instructors and faculty have succeeded in building a more active and engaging learning environment by flipping their classroom. This practice typically involves pre-recorded content and/or reading material consumed by students outside of class so that they can work on assignments and problem solving during class time. Multiple studies, including those focused on chemistry courses[1,2,3], have now concluded that flipped classrooms can positively impact student performance.
In this workshop, you will learn and gain hands-on experience in how Professor Stephanie Dillon has flipped her General Chemistry course of 350+ students at Florida State University. In the first part of the workshop, you will learn best practices from Professor Dillon in terms of how she has architected her flipped course, including how she creates and delivers video content, and administers different types of activities/assessments throughout the term. In the second part, you will receive a guided and hands-on experience with the Aktiv Chemistry (formerly Chem101) platform that Professor Dillon utilizes to deliver in-class problem sets.
Aktiv Chemistry is a next-generation active platform built specifically for chemistry courses such as General Chemistry, Introductory Chemistry, GOB Chemistry, and Organic Chemistry. The platform helps instructors easily incorporate active learning into their classrooms and can also keep students engaged outside of class with homework, extra practice, or quizzes that they can access anytime on their smartphones and other personal devices.
You will be provided with a personal device and get the opportunity to work with Aktiv Chemistry's scaffolded modules and intelligent feedback system that help students understand dimensional analysis, Lewis structures, nomenclature, chemical equations, equilibrium/ICE table problems, and more. We will also guide you through creating problem sets, incorporating OER into your assignments, and managing student performance. At the end of the workshop, you will take home your own instructor account with assignment templates to explore in the weeks and months to follow.
High school chemistry instructors are also welcomed to participate in the workshop.

Elaine Bailey
Associate Professor, Piedmont University
Wednesday, August 3, 2:05 PM ET
WALC Building, Room 1132
Inquiry-based learning is a student-centered pedagogical technique used to enhance higher-order thinking skills. Previous research has shown that this approach is extremely effective at improving student engagement and retention. At Piedmont University, a classroom practice has been developed that includes the use of inquiry-based activity workbooks supported by an interactive online tool. The workbooks have been prepared in house and completely replace the need for a textbook. This approach is currently used in Piedmont's lower-division courses, General Chemistry and Organic Chemistry. These courses contain 20-25 students and are comprised of both science and non-science majors. Each class period consists of students actively working on problems in groups and asking questions throughout the class. Students are engaged in active learning and discussions 100% of the time. To facilitate active engagement, the online learning tool, Aktiv Chemistry (formerly Chem 101) is utilized. This tool has proven essential to the active learning practice as it provides immediate personalized feedback to the students. Active problem-solving with prompt feedback can help students develop an approach to tackle more complex learning. Thus, this approach promotes deeper learning and allows students to ask more insightful questions in the classroom. The instructor is then able to quickly ascertain areas that need extra explanation or further coverage. The Aktiv Chemistry platform is then used to reinforce concepts with daily homework assignments. The use of guided inquiry activities combined with assessments has been very well received by students and has resulted in increases in test scores and long-term learning. Data on student success and satisfaction will be presented in this presentation.
Evolving With Measurable Impact From Sage-on-a-Stage To Guide-on-the-Side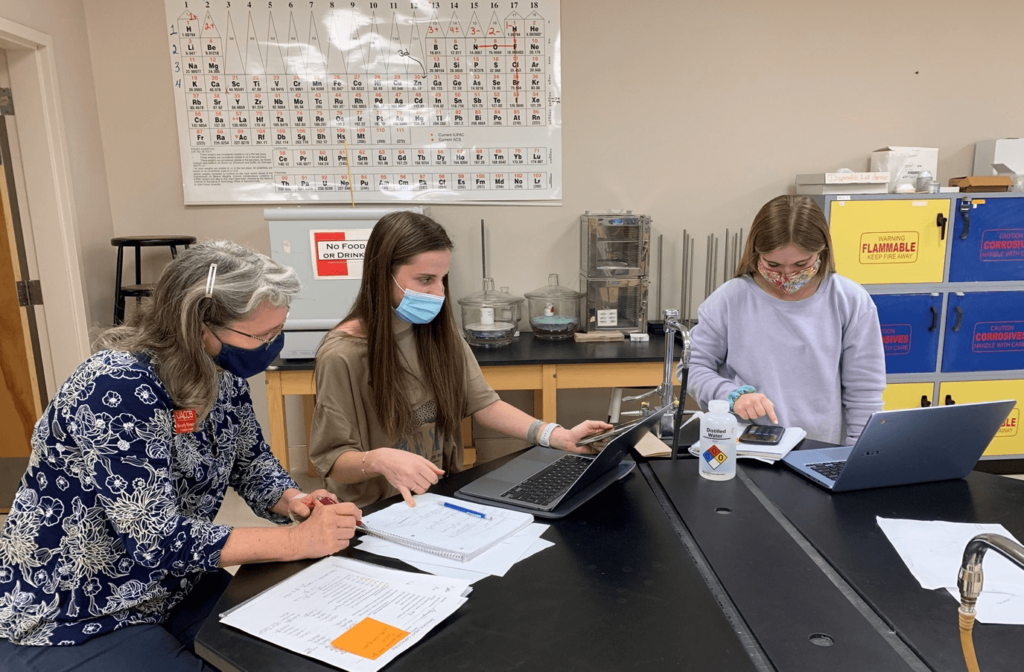 Beverly Meinzer
Professor, University of Arkansas Community College
Thursday, August 4, 11:45 AM ET
WALC Building, Room 3138
Teaching college level chemistry has often been more lecture-driven than student-centered. The latter has been considered unnecessary for adult learners. However, in community college courses with students age 18-50+, the very same pedagogical tactics that seem best for younger learners have generated measurable improvements in learning, retention, and enthusiasm for chemistry.
Beverly Meinzer, two-time winner of UACCB's Student's Choice Outstanding Educator Award, Passport State facilitator for Arkansas (national program supporting students in transferring from two-year to four-year schools), has gathered qualitative and quantitative data showing the impact of her philosophical shifts in teaching. These shifts include recognizing students' needs for more affordable course materials, friendly connections with teachers, positive reinforcement for their efforts, and empathy for the challenges they face outside the classroom. Shifts also include an effort to motivate students to do the hard work required to meet rigorous standards throughA gamification, explicit connections to chemistry careers, and mobile-friendly educational technology that scaffolds student learning as they work through problems and questions. As Meinzer stepped down from the stage to walk among students (projecting from a tablet instead of the podium), her class came alive. Students took to the whiteboard in her stead, exploring complex problems with peers. As she made learning increasingly accessible through recorded class sessions and office hours in larger classrooms at various times of day/evening, she engaged the students who previously struggled to meet within the schedule. This session describes these and many more specific, practical, do-able approaches that evolve your teaching practices to meet students where they are, and raise the bar on achievement and joy.
Using Aktiv Chemistry to Enhance Active Learning in General Chemistry

Alicia Paterno
Assistant Professor, Duquesne University
Monday, August 1, 2:05 PM ET
WALC Building, Room 2124
Using polling and interactive response systems is an effective way to engage students in the classroom. In this talk, we will discuss the use of the Aktiv Chemistry (formerly Chem101) app to engage students both inside and outside of the large general chemistry classroom. The Aktiv Chemistry app can be used on any device and provides a platform to take attendance, poll the audience, and foster interactive problem solving. Advantages and disadvantages, implementation strategies, and student feedback will be presented and discussed.
Aktiv Chemistry Organic Chemistry II: Part of the Kitchen Sink Approach

Paul Wiget
Associate Professor, Samford University
Wednesday, August 3, 2:45 PM ET
STEW Building, Room 302
Herein we describe the adoption and implementation of Aktiv Learning (formerly Chem101) for Just-in-Time teaching, in-class active learning and chapter homework, in conjunction with a multimodal approach to content dissemination. Through using ExplainEDU all lectures are recorded and uploaded to LMS. Recordings from previous lectures are posted online at the beginning of the term in one folder and daily lectures are uploaded to another. Combining text-book problems and Aktiv Learning provide a variety of interaction and content types through which students can think-pair-share their way to finding solutions. In-class Aktiv Learning assignments provide participation points while the JIT assignments are included in the Homework grade. Additionally, a Doodle poll was performed at the beginning of the term to determine the best times for office hours to reach the most students (45/63 available during scheduled office hours). The poll also led to the creation of study groups between students of both sections as part of the students' participation grade. A student peer evaluation form was provided for student to grade their peers on attendance, participation in discussions, bringing questions to the group, and providing solutions for the group. The grading outcomes are compared to the last pre-covid sections of Organic Chemistry II for comparison.
Learning About the Process of Learning From Logs of Student Interactions With Online Resources

Mark Blaser
Professor, Shasta College
Monday, August 1, 11:25 AM ET
CHAS Building, Room 2064
The Open Learning Initiative (OLI) General Chemistry courses gather detailed data on student interactions with online learning resources. This includes highly-scaffolded "Learn by Doing" activities in which students begin solving a problem and are given substantial help through hints and feedback. The scaffolding is then faded to "Did I Get This" activities and end-of-module "quizzes" which function as, respectively, formative and summative assessments. The log of student interactions thereby includes information on the process of student learning. This is much richer than data gathered only from pre and post tests, which instead only provide snapshots of what the student knows before and after engaging with learning opportunities. For the past two years, we have been gathering data on millions of interactions of students with learning objects, from a variety of institution types. This presentation will discuss how this data is gathered, curated and analyzed. We will also discuss results from ongoing analysis of this data.
Meeting the Need of Diverse Learners: New Technology That Remediates Math Skills & Chemistry Struggle Points With Spaced Practice

Justin Weinberg
Co-founder & CEO, Aktiv Learning
Tuesday, August 2, 2:05 PM ET
WALC Building, Room B066
Whether teaching General, Introductory, GOB, or Organic Chemistry, instructors are often met with populations of students with mixed backgrounds and abilities when it comes to learning chemistry. Two of the most common problems faced by instructors are 1) working with students who lack the prerequisite math skills needed to succeed in first-year chemistry courses and 2) identifying and remediating the students who need additional support in the course before it's too late.
Aktiv Chemistry (formerly Chem101) is a next-generation active platform built specifically for first-year and organic chemistry courses. The platform helps instructors easily incorporate active learning into their classrooms and also keeps students engaged outside of class with homework assignments, extra practice, and quizzes that they can access anytime on their smartphones and other personal devices.
This session discusses the design and development of two new technologies in the Aktiv Chemistry platform that address the pain points of teaching diverse learners:
First is a suite of math remediation features that help students review and practice math skills such as order of operations, solving linear and quadratic equations, and working with exponents, logarithms, and scientific notation. Unlike standard digitized math problems, Aktiv Chemistry presents students with new types of scaffolded interfaces that allow them to solve problems step-by-step. As students problem solve, Aktiv Chemistry utilizes artificial intelligence to provide immediate feedback on the steps of their solution. These two facets together provide students with deeper insight into their misconceptions and present easier pathways towards remediation. 
Second is a new feature called Adaptive Follow Up that is designed to identify struggle points and personalize the learning path for students who need extra support. Adaptive Follow Up builds on homework assignments created by Aktiv Chemistry instructors by automatically generating a personalized follow up assignment for each student that is spaced multiple days after they complete their original set of problems. In this case, the personalized follow up assignment is based on the specific problems each student struggles from their original homework assignment. 
Examples of these interfaces and new features will be presented in a live demonstration and their scaffolded learning design will be discussed in the detail.