We surveyed nearly 6,200 students across 446 colleges and universities* about their experiences using Aktiv Chemistry. With Valentine's Day around the corner, we're sharing how learning with the Aktiv platform made these students fall in love with chemistry.
1.  User-friendly mobile app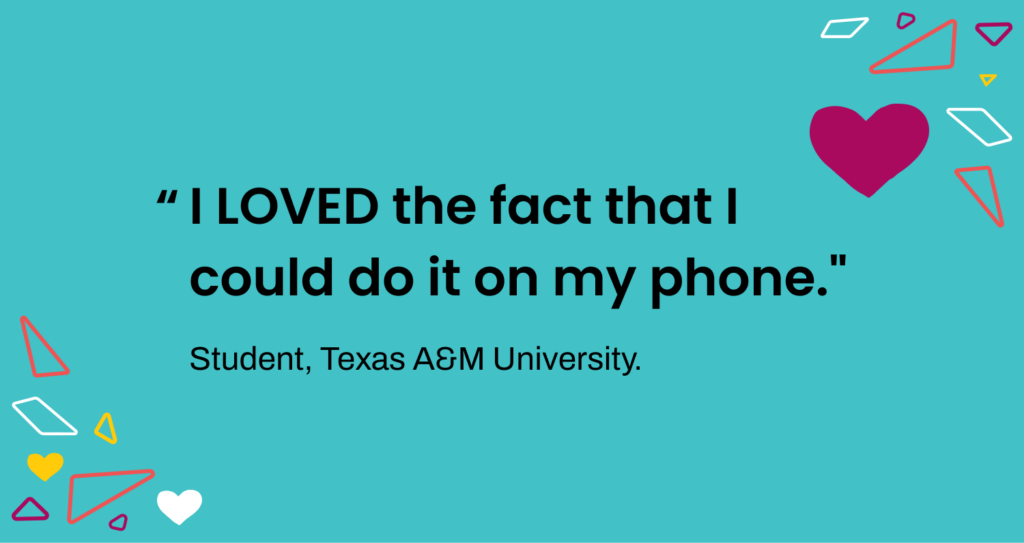 "I LOVED the fact that I could do it on my phone. [It] felt like a game," gushed one Organic Chemistry student at Texas A&M University. Aktiv Chemistry's mobile-first design ensures students enjoy the same experience no matter where they learn. The platform was designed to be used on any smartphone and can scale for larger devices like tablets and laptops so students can work while commuting or on-the-go.
2. Makes chemistry less intimidating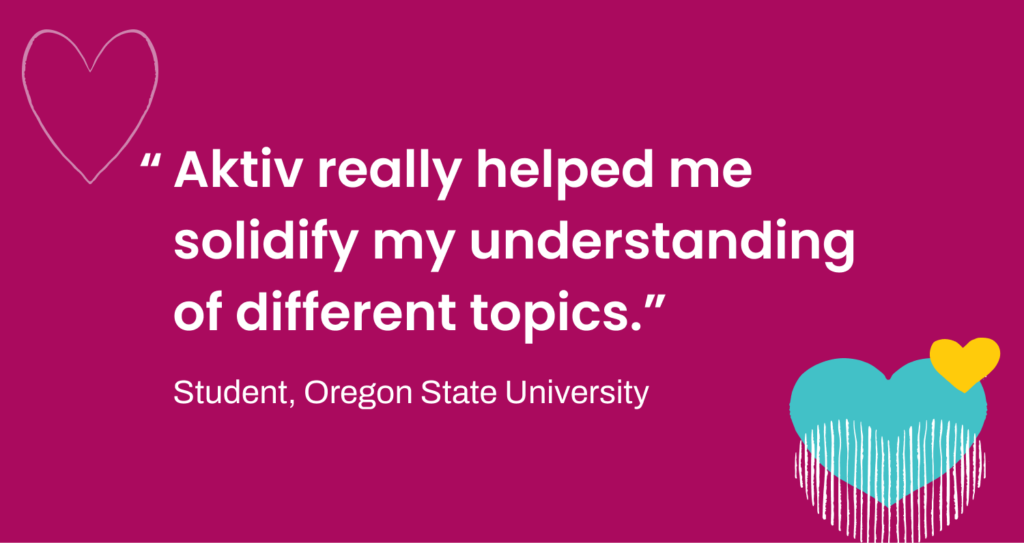 Taking chemistry courses can feel overwhelming. Aktiv Chemistry reduces intimidation by increasing engagement, with over 20,000 visual and interactive problems that include novel modules on Lewis structures and VSEPR, dimensional analysis, nomenclature, chemical equations, equilibrium, and other key topics. A General Chemistry student from Oregon State University explained how this helped them: "[Aktiv] really helped me solidify my understanding of different topics, and it made me more comfortable translating what I [saw] in the lectures and read in book to exhibiting what I know because of the interactive problems."

3. Builds confidence with personalized feedback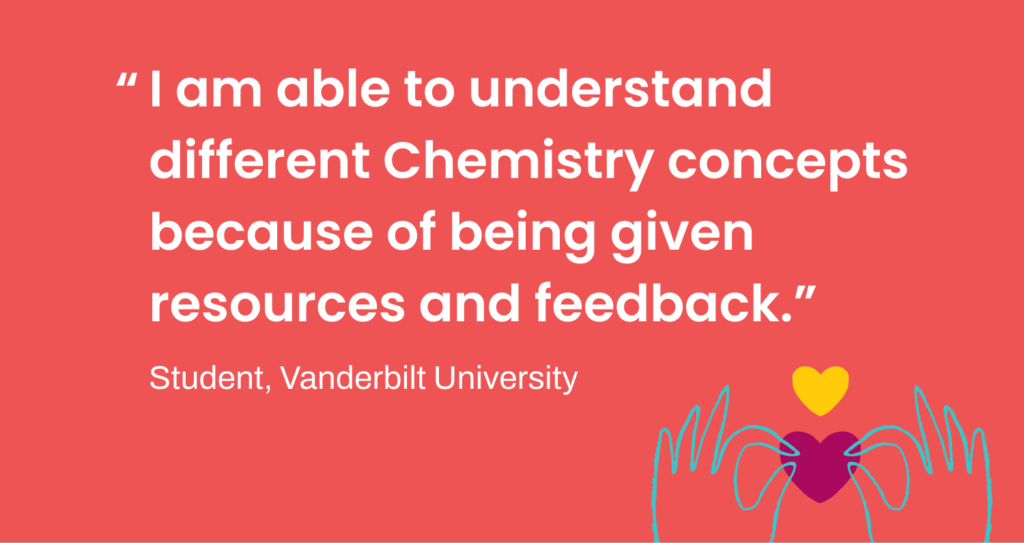 With Aktiv Chemistry, any mistake becomes a learning opportunity. The platform's chemical intelligence provides immediate, targeted pedagogical feedback which is able to understand not only right or wrong, but where students went wrong—helping them learn the correct way in the moment. A General Chemistry student from Vanderbilt University explains, "I am able to understand different Chemistry concepts because of being given resources and feedback when solving problems in Aktiv."
4. Interactive homework problems keep students engaged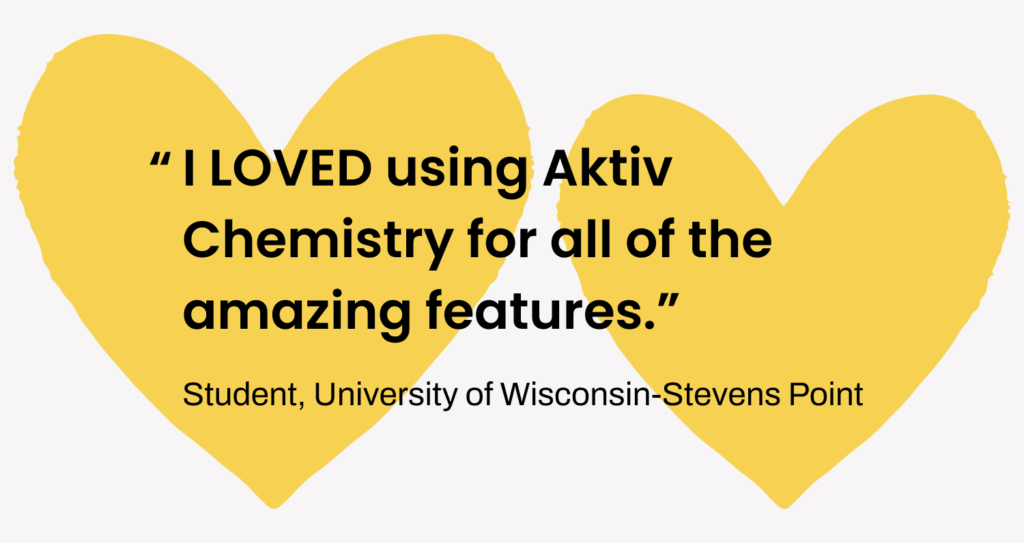 "I LOVED using Aktiv Chemistry for all of the amazing features such as the different ways to complete problems using [drag-and-drop] and making Lewis structures." This GOB Chemistry student from University of Wisconsin-Stevens Point is raving about Aktiv Chemistry's interactive features that include our intuitive drawing tool. This groundbreaking interface offers scaffolding and allows students to form the connection between the configuration of the structure and its molecular shape, helping them better understand the assignments as they complete them. This complements what students learn in class to ensure they build mastery of each topic.
5. An affordable solution to drive success for all students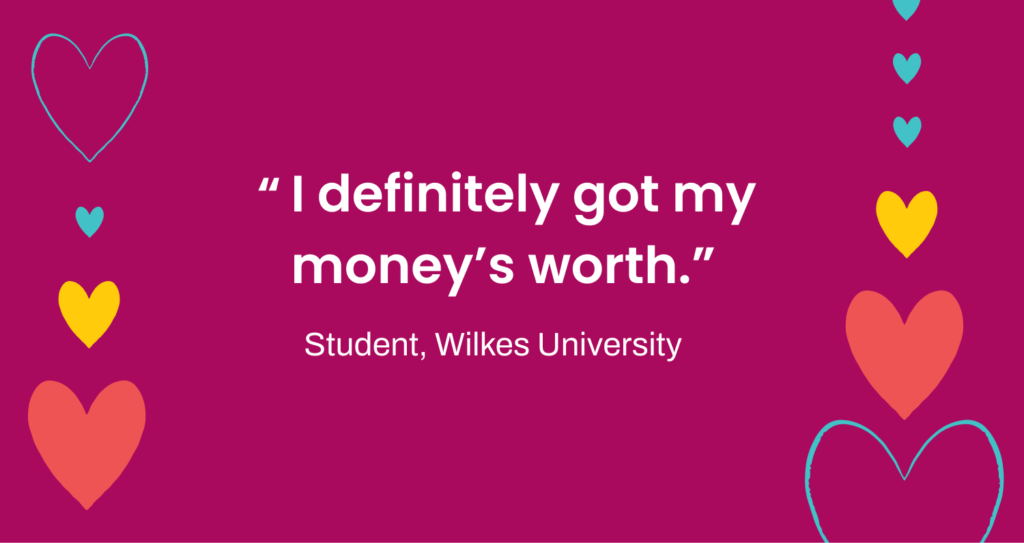 One big thing students adore about Aktiv Chemistry? It's affordable. "Using Aktiv helped me get a great foundation for Organic Chemistry. I definitely got my money's worth," says an Organic Chemistry student at Wilkes University. That's because affordable textbook options, such as Top Hat eTexts and OpenStax, lower the cost of course materials while increasing the quality of the teaching and learning experience. What's not to love about that?
Ready to see how Aktiv Chemistry can impact your course—and your students?
Learn more about the features, see a live demo, and get a free instructor playground account with access to the content library.
* Results From Fall 2021 Student Survey