Every year, we continue to see the cost of undergraduate education rise. Over the decade between the 2007/8 and 2017/8 academic years, tuition costs rose 31% at public universities. On top of tuition, students are faced with trying to cover the rising costs of books and course materials. Institutions are often focused on lowering their own costs related to instruction, and less so on reducing the costs passed on to students. When they are focused on lowering costs, a tricky balancing act emerges between maintaining course quality and accessibility while reducing educational costs. With this focus in mind, there are several ways that instructors can lower their course costs for students while fostering accessibility without compromising the quality of instruction.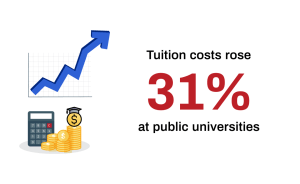 Choose textbook editions carefully
One of the simplest ways for instructors to reduce the cost of their courses is to use textbooks that are available as part of a book rental program. Research which editions have the best resale value, or select an edition that has used versions available. For example, you might use a slightly older revision due to availability, instead of the most recently released edition. Often the changes between editions are minor, and students will have far more used options to choose from and pay significantly less for their copy. Instructors should try to avoid special bundled versions since these additional materials may only add nominal value but can significantly increase the cost.
Use textbook materials in alternate formats
Another option for instructors is to use alternative formats for textbook materials. This can mean only using the relevant sections of the textbook in loose-leaf format or utilizing digitized or e-book textbook versions. Unbound course materials are often significantly less expensive than their bound counterparts, and digital versions can be far more portable for students. Opting for digital-only materials needs to be assessed against student access to devices and/or printing costs for those who may require physical copies.
Tap into open educational resources
The body of open educational resource repositories and libraries has grown significantly. They can be an excellent source of open-licensed materials that instructors can tap into that are just as effective as the traditional textbook approach. In fact, according to Penn State based on research done by Education Tech Research and Development, "results across multiple studies indicate that students generally achieve the same learning outcomes when OER are utilized and simultaneously save significant amounts of money."
These resources not only allow instructors to draw from a variety of existing lesson plans and materials that can save time and effort when developing a course plan, but they are also free from expensive licensing fees and publisher markups.
There are additional benefits of using OERs that strongly benefit course development and student outcomes. The benefits include collaboration with other instructors, the ability to draw from a broad body of materials, and a wider variety of student-facing resources to advance learning, both in the classroom and at home.
Popular OERs often partner with effective online technologies to ensure that the learning experience is even more effective. You can see that with the partnership between OpenStax Chemistry and Aktiv Chemistry. When integrated, they become a low-cost solution that empowers students at all socioeconomic levels.

Strategic use of technology and computer-based learning
Instructors can also choose to build a course that foregoes traditional textbooks and makes use of digital resources and technology. This can be in the form of instructional videos, interactive websites, free online collaborative tools, or leveraging institutionally available Learning Management Systems like Canvas or Moodle. Strategically implemented technology can help not only lower the cost of materials but also increase student engagement and improve learning outcomes. For example, the use of student-centered software, like Aktiv Chemistry, integrates with other resources, like an LMS to streamline access to materials and assignments, while also reducing instructional overhead. This can save instructors both time and energy that can be redirected toward students. In addition, improved instructor availability and bandwidth can reduce the need for students to engage in external tutoring services.
Utilize existing student devices to replace one-off materials
The most common device in any classroom in the modern era are the mobile devices already found in students' pockets. By focusing on mobile-friendly tools like Aktiv Chemistry, instructors can replace the need for students to own or have access to laptops or desktop computers. This also reduces students having to purchase additional one-off materials such as clickers, drawing tools, or model kits. The use of mobile devices in the classroom has positive impacts on active learning thanks to encouraging interactivity and the opportunity to provide immediate feedback. Mobile tools also provide improved support for online and hybrid learning, allowing equal engagement across modes. And these devices are already familiar to students, lowering the learning curve so that students can more easily engage with the class content.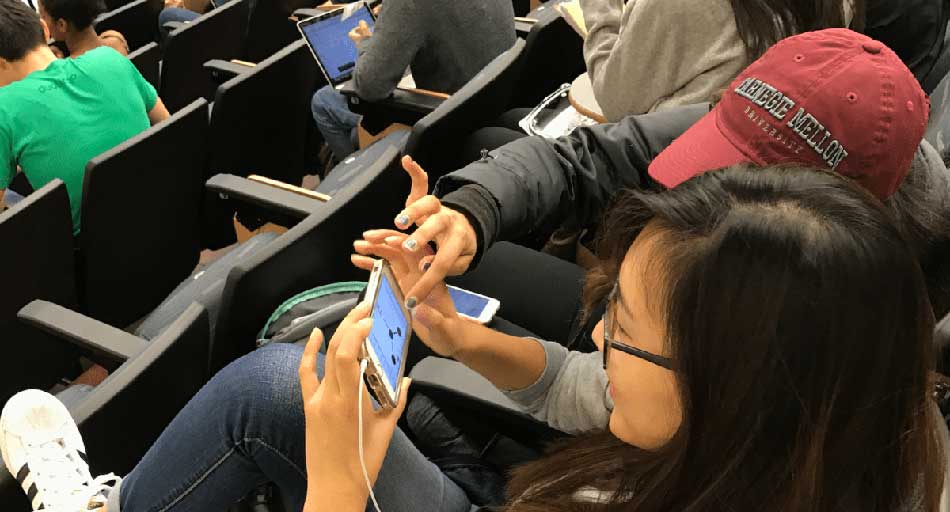 Mix and match to build your perfect low-cost course
Each of these cost-reducing strategies can stand on their own. However, when blended together, instructors can build engaging, modern courses that reduce classroom costs for students without compromising on accessibility or course quality. By strategically combining these approaches, instructors can increase active learning across teaching modes while improving student outcomes and, at the same time, reducing costs and barriers to access.
If you're curious about how Aktiv Chemistry can help you lower your classroom costs, let us show you around the platform. You can book a demo here.
If you missed our recent workshop featuring how OpenStax and Aktiv Chemistry work together, go check it out here.