The Fall term is coming up and the Aktiv team has worked hard to bring many exciting new features, content, and capabilities to our chemistry courses. Our largest focus this year has been how we can make learning more personalized for students on the Aktiv Chemistry platform. This includes setting students up for success from the start of their courses and how we can guide them as the course progresses. There are also big updates to course management, analytics, and content for our GOB and Organic Chemistry courses. Together, these updates represent the biggest revision to the Aktiv Chemistry platform since its inception. 
To get you up to speed on the many new features, we've put together this guide that includes summaries and video overviews (from a recent webinar) of each area of focus. Simply navigate to those of interest!
We are releasing two major personalized learning features this Fall. The first is a suite of math remediation tools that are built to help bolster and support the foundation of math skills as students enter chemistry courses.
We have built three new learning modalities to help students with math. The first is something we call Scaffolded Mode, where we enable students to play, explore and manipulate foundational topics in math in a tactile manner. In this mode, students can literally interact with math on screen. As students work through the manipulations, they are quizzed with a contextual menu, which assesses their understanding of that particular operation.
Another new modality is StepWise, where students enter the steps of their work using an intuitive palette. When they submit a step, they are given encouragement or feedback in a chat-like interface. They can view their previous attempts by scrolling up and working towards the correct answer step by step.
In Final Answer Mode, which is similar to numeric entry from our chemistry questions, students use the same intuitive math palette to enter only their final answer and are given detailed feedback on their answers. 
Together, these modalities come together in a strategy to allow instructors both to assess student math foundations as well as remediate and provide help to students who need it.

Take a look at Scaffolded and StepWise Modes in action:
The second major personalized learning feature is Adaptive Follow Up. Adaptive Follow Up builds on top of the homework assignments that instructors create in the Aktiv Chemistry platform. 
This feature intelligently combines two sets of data in order to automatically generate personalized follow up assignments for students. The first set of data includes what problems the students are being assigned in the original homework so the Aktiv platform can see what types of problems, levels of difficulty, and learning objectives you have selected for the students to be learning from. The second set of data is how each student performs individually on the homework assignment. These two sets of data are combined along with intelligence from our platform to generate an Adaptive Follow Up activity for each homework assignment in your course.
Each Adaptive Follow Up activity is spaced a few days after the original homework assignment is due, giving students time to walk away from the concepts and then revisit them later. We've also included a range of settings for instructors customize the Adaptive Follow Up experience. These include making the Follow Up required or optional, modifying the scheduling, and a range of new gradebook settings.
Updates to Course Management & Analytics
As we expand the features and use cases of Aktiv Chemistry, we know that taking the steps to manage your course and gaining insights on student performance is more and more important. 
This is why we've recently introduced functionality such as a multi-column LMS integration with an enhanced gradebook, question pools for randomization of problem groups, late submission policies with gradual penalties, integrated remote proctoring for quizzes and exams, and the ability to assign activities to individuals or preset groups.

Based on instructor feedback, we've introduced Rewind – a new technology to allow you to look at each student attempt of an assigned problem, both for individual students and your entire course using the question histogram.This feature can be helpful during office hours or if a student wants to meet after class on a problem they are having difficulty with. Using Rewind on the question histogram highlights the initial misconceptions on homework assignments, in-class activities, and quizzes. 
This Fall, we're introducing even more analytics at the course level and student level. On each question your assignments, you will be able to see how many students participated, how many students got the answer correct, the average attempts for each problem, the average time spent on each problem, and the average time spent on the assignment overall. This also works at the individual level as well so instructors can see the time stamps and number of attempts on each question for a particular student. 
We're also proud to have made some major updates to our platform's accessibility for students who rely on screen readers, text-to-speech, keyboard navigation, image alt text, and color contrast. With these upgrades, Aktiv Chemistry is now compliant with WCAG 2.1 AA standards.
Updates to the Content Library
The Aktiv Chemistry content library has some new and exciting features as well. Now, on the left sidebar within the content library, instructors can filter using specific course types, keywords, problem types, levels of difficulty, and also "favorite" problems. Favoring problems allows you to star questions you like but aren't ready to use so those questions will be highlighted when you come back to create future assignments.
The course filter has been expanded to include more general course filters (Gen Chem, GOB, Intro, Organic, etc) and for the first time, we have introduced popular textbook-specific filters from major publishers. These map Aktiv's questions specifically to the chapters and sections in specific textbooks (Tro, Zumdalh, Timberlake, etc.) to make creating assignments even easier. We have a few published in the library today, and will continue to grow this over time.
Updates for GOB & Organic Chemistry Courses
We've significantly expanded content for GOB and Organic Chemistry courses. This includes our patented AktivGrid, which allows students to intuitively draw out skeletal structures, structural formulas, reaction mechanisms and many other types of conformations. The AktivGrid includes intelligent feedback that highlights the specific misconceptions that students make to help guide them towards the correct answer. 
For instructors who are teaching GOB courses, we've extended the AktivGrid into Fischer projections and Haworth projections. We've also introduced curved arrow drawing for mechanisms and resonance structures.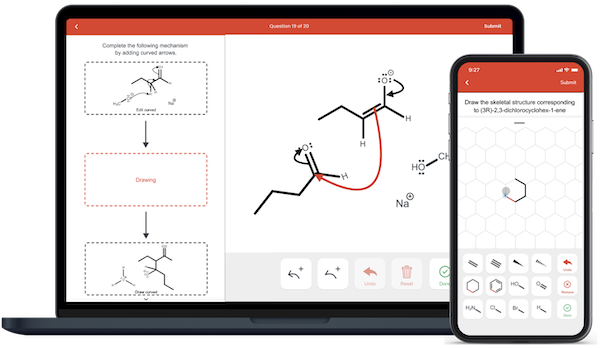 Excited about these new features?
If you're interested in learning more or making sure these features are enabled for your account, please reach out to support@aktiv.com and together we can ensure your courses for Fall and beyond are successful.