Challenges at Large Universities
If you are faculty at a large university, you might be familiar with a plethora of challenges including:
Large class sizes

that make it difficult to engage students during meeting times.

Overwhelmed and 'lost' students

who struggle to adjust from their high school (1st years) or smaller college (transfers).

Limited time and resources

to incorporate in-class activities or provide individualized feedback to students, which can cause some to lag behind.
These challenges only add to the grocery list of obstacles that all college communities face:
COVID learning gaps

that stem from the abrupt

shift to online learning in 2020

.

Schedule conflicts

that prevent students from meeting and connecting with their instructors.

Student work responsibilities

that cut into learning time outside of the classroom.
Professors 
Cathy Serrano Lugo
 and
Dan Collins
of Texas A&M University – one of the largest chemistry departments in the country – face all these challenges but have found a way to ensure that their students succeed.
I've had the lowest number of Q [voluntary] drops and the highest grades that I've had since I've started teaching Organic Chemistry. I think Aktiv Chemistry definitely had a good part in that.
By using Aktiv in their Organic Chemistry courses as a singular platform for in-class activities and online homework, Dan and Cathy have engaged students and bridged learning gaps. They praise the platforms' ability to:
Train students to draw structures and mechanisms with ease

. The groundbreaking (and patented) AktivGrid drawing system scaffolds students as they draw skeletal structures, predict synthesis roadmaps, and perform electron pushing with curved arrow notation. 

Help students learn more effectively with pedagogically-intelligent feedback

. Aktiv targets underlying misconceptions, allowing students to independently understand and learn from their mistakes.

Infuse active learning activities throughout in-class lectures

.

By facilitating mid-class problem-solving, Dan and Cathy finally break the stereotypical monotony of a traditional lecture.

Positively impact students and reduce dropout rates

. Aktiv Chemistry offers a multitude of benefits for students. After Dan and Cathy adopted the platform, overall dropout rates in their sections have significantly been lowered.
Drawing Better Structures, More Easily
The AktivGrid truly is the best drawing tool out there.
Organic Chemistry students have to master the drawing of skeletal structures and a variety of different conformations in order to solve problems ranging from simple nomenclature exercises, predicting products of reactions, and developing reaction mechanisms with curved arrow notation. When Dan came across the AktivGrid – Aktiv Chemistry's technology to support the drawing and manipulating of organic molecules – he proclaimed "it truly is the best drawing tool out there." His students agreed, saying, "Where has this been the whole time?" 
The AktivGrid drawing system features a groundbreaking user interface that allows for intuitive molecule drawing on any device, from smartphone to desktop, and intelligent student feedback on misconceptions in Organic Chemistry courses.
It's not every day that students praise how intuitive a learning platform is. Dan observed that his students learned to draw structures with AktivGrid much "faster" than other platforms.

Normally when you do in-class activities or polls, you're pretty much limited to multiple choice questions or true-or-false, or maybe numerical, at best. But that's not going to work for Organic Chemistry courses. You want to train your students to draw molecules and draw arrows, to know how they work. With the AktivGrid, you're free to do that.
AktivGrid's intuitive, mobile-first interface allows Dan and Cathy's students to practice drawing skeletal structures, condensed structural formulas, chair projections, Newman projections, Fischer projections, and more.
What impressed Cathy the most was that learning to draw on AktivGrid also "significantly improved" the structures they would draw on paper! No more messy carbon backbones, uneven angles, or vague wedges and dashes. Cathy says that "it becomes more understandable what [students] are drawing so it's easier for us teachers to grade because it looks better." A win-win for students and instructors.
Feedback that Gives Freedom
Aktiv Chemistry gives them the freedom to understand what they're doing wrong and reduces a lot of the questions that we might get during lecture, office hours, review sessions, and by email.
With large sections, it can be tough to offer personalized remediation to every student in the moment they need it.
Aktiv Chemistry's feedback – automated, yet intelligently-targeted – guides students to learn when they struggle with concepts on any assigned question. Aktiv grades students on core principles by checking to see if chain length, functional groups, bond types, and stereochemistry/chirality are correct. This allows the system to verify the equivalency of structures no matter how students orient or draw them. With the aide of this targeted feedback, both Dan and Cathy were happy to see that their students could learn more effectively outside of the classroom.
With other platforms, I would receive several emails per day, which was the result of students not understanding why they're getting the answer wrong on their homework assignments. Aktiv Chemistry significantly reduced that confusion.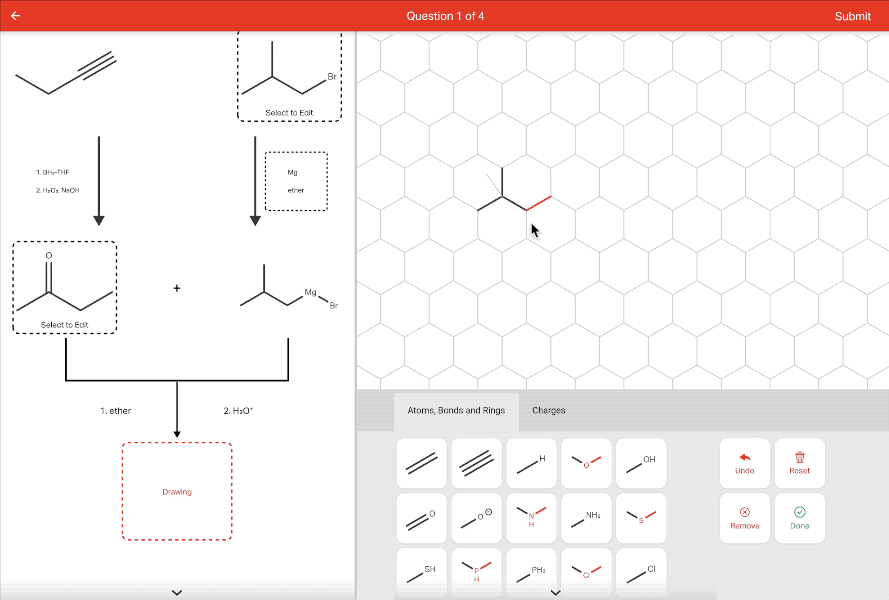 An example of targeted instructional feedback that guides students
Engaging Lectures with Active Learning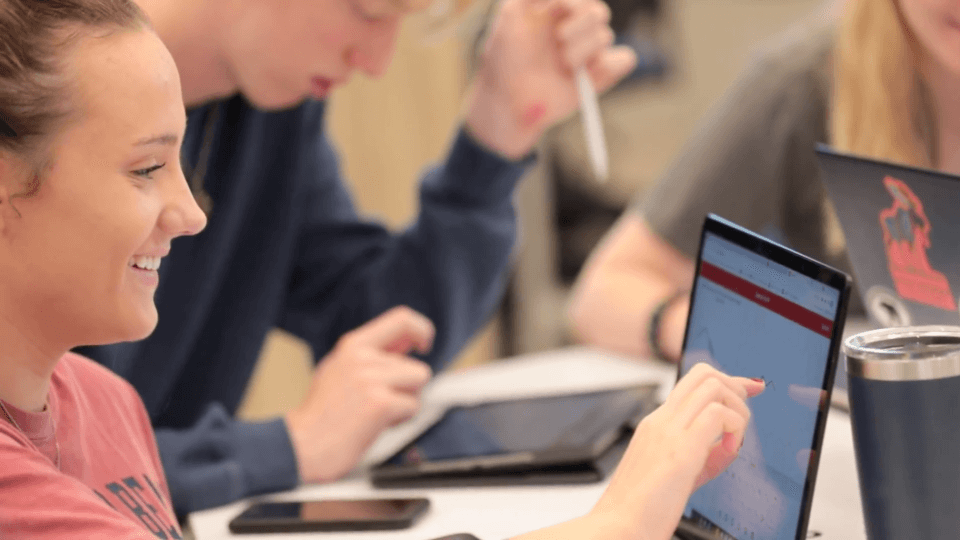 Aktiv Chemistry allows instructors to select any number and type of question and push them to students' devices over the course of a class period. Instructors can send the same questions to promote collaboration or opt for slightly different questions to ensure individual efforts.
Dan was able to leverage this capability to break up the "vocal monotony" of his lectures. He appreciates that these group activities made learning so engaging that class time "went by much faster." 
Similarly, Cathy segmented her lectures into "mini lectures." She used Aktiv Chemistry for attendance and polling, and then inserted 5-7 questions between mini-lectures as "buddy quizzes" or "think-pair-share" activities.
A good number of our students are working while attending school… you really need to maximize their learning in the classroom.
Overall Positive Impacts for Students
Dan and Cathy feel that Aktiv Chemistry positively impacted their students in many ways. One benefit that Dan's students enjoyed was Aktiv's device-agnostic, mobile-optimized interface. "These students guard their cell phone with their life," says Dan as he describes how his students no longer need to remember to bring clickers. Instead, they can access Aktiv Chemistry on any device they like, from laptops to tablets to smartphones.
They don't feel like this was a homework platform in which they'll say 'Oh my gosh, I dread doing this'. A lot of students when it comes to online homework they're one-and-done, they want to do it one day a week… But my students were actually going in and using Aktiv Chemistry more often… four to six days out of the week!
On top of that, Dan noticed the accessible interface of Aktiv Chemistry assignments engaged students in ways no other platform had previously. Dan says his students would normally burn out by "week nine and ten" when using other platforms. Things changed after Dan started using Aktiv Chemistry. Now his students continued to complete homework and indicated on end-of-semester surveys that it was "beneficial" for exam preparation.
Additionally, Aktiv Chemistry allowed Dan and Cathy to see the suggested times of student completion for each problem they assigned from Aktiv's problem library. This helped them select questions and build homework assignments that did not overwhelm their students in length.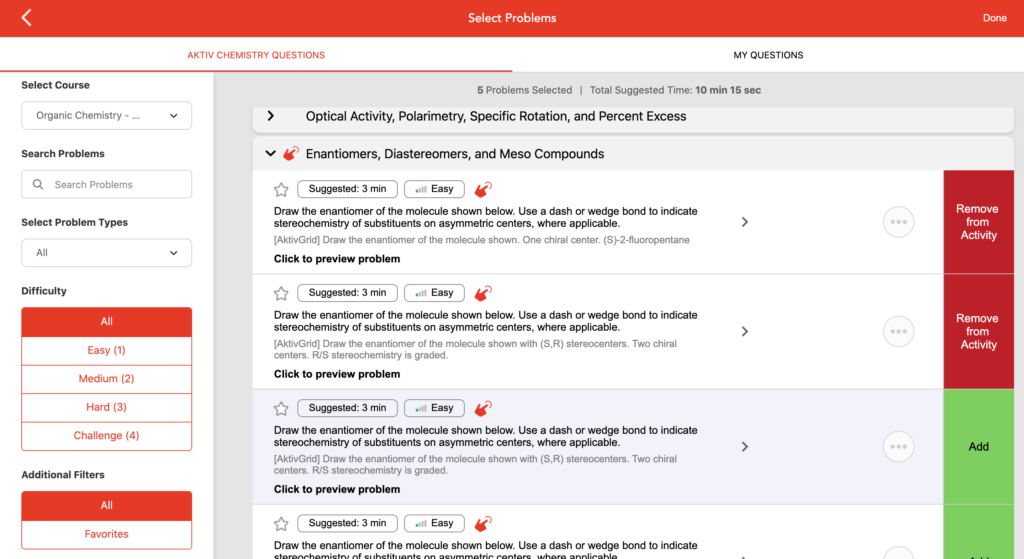 Each of the 15,000+ problems include a pithy description and estimated completion times
STEM courses are notorious for their low retention rates and high dropout rates. Along with other course improvements, such as active learning group work and peer led assignments, Aktiv Chemistry contributed to improving outcomes in Dan and Cathy's classes, and in these recent cases, cutting the failure rate half. Whereas 15 – 25 students usually dropped by the 12th week of the semester, Dan noted this rate fell to 5 – 7 students. Cathy saw similar results herself, with her DFW rates decreasing from 27.6% in 2019 to 12.2% in 2021. While more work will be required to develop a peer-reviewed study, this early evidence is a promising sign for the active learning approach these faculty have taken in their courses.
Aktiv Chemistry is very easy to use and adapt into your active learning activities during class. It's definitely part of the reason why my grades improved.
Take the Next Step for Student Success
Teaching at a large university puts a lot of pressure on instructors and students alike. To make sure their students are receiving a world-class education, Dan Collins and Cathy Serrano looked into Aktiv Chemistry as their "one-stop" solution.
See how Aktiv Chemistry can do the same for you whether you teach General, Intro, GOB, or Organic Chemistry. Schedule a personalized demo with us today!